Your Most Vital Possession is your Health
The Benefits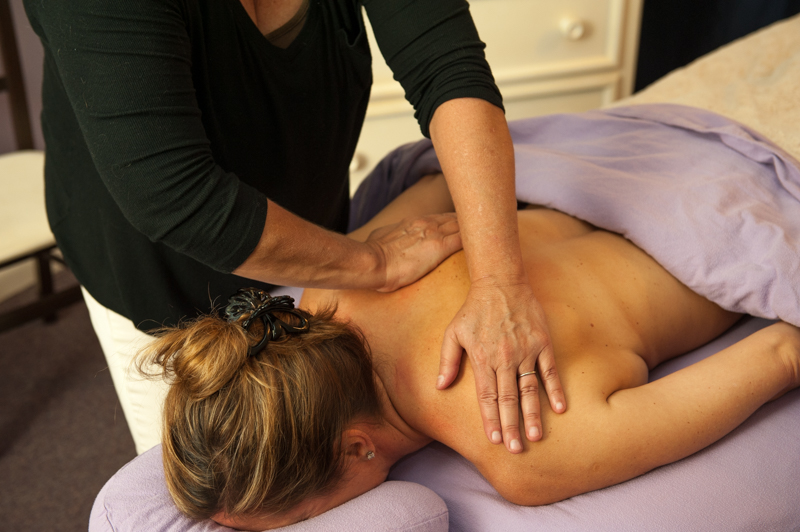 the Benefits
Massage Therapy
Experts estimate that upwards of ninety percent of disease is stress-related. And perhaps nothing ages us faster, internally and externally, than high stress. A massage is an effective tool for managing this stress, which translates into:
Decreased anxiety

Enhanced sleep quality

Greater energy

Improved concentration

Increased circulation

Reduced fatigue
Massage can also 
specifically 
help address
a number of health concerns.
Bodywork can:
Alleviate

 

low-back pain

 

and improve range of motion.
Assist with shorter, easier labor for

 

expectant mothers

 

and shorten maternity hospital stays.
Ease

 

medication dependence.
Enhance

 

immunity

 

by stimulating lymph flow—the body's natural defense system.
Exercise and stretch

 

weak, tight, or atrophied muscles.
Help

 

athletes

 

of any level prepare for, and recover from, strenuous workouts.

Improve the condition of the body's largest organ—the skin.

Increase

 

joint flexibility.
Lessen

 

depression and anxiety.
Promote tissue regeneration, reducing

 

scar tissue and stretch marks.
Pump oxygen and nutrients into tissues and vital organs, improving

 

circulation.
Reduce

 

postsurgery adhesions and swelling.
Reduce

 

spasms and cramping.
Relax and soften injured, tired, and

 

overused muscles.
Release endorphins—amino acids that work as the body's natural

 

painkiller.
Relieve

 

migraine

 

pain.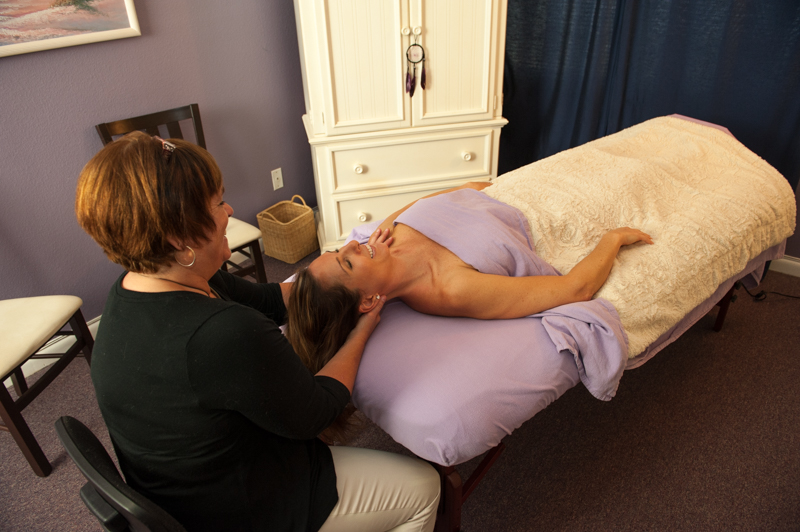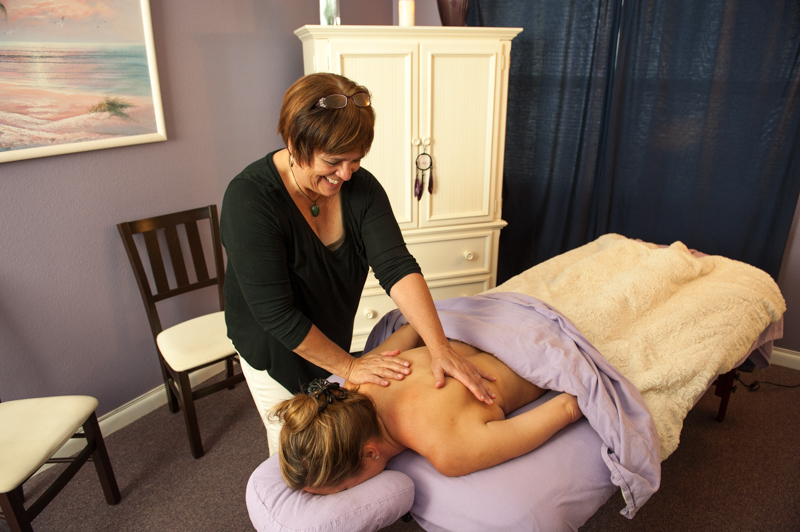 Therapeutic Technique Terminology
Learn More About…
Dermaplaning
Dermaplaning is a skin treatment that uses an exfoliating blade to skim dead skin cells and hair from your face in an effort to improve the skin's surface and create a smooth and more youthful appearance. It is also referred to as microplaning or blading.
Energy Massage
Energy Massage: Incorporates influential breathing techniques throughout a medium pressure massage.
Instrument Assisted Soft Tissue Mobilization (IASTM)
Instrument Assisted Soft Tissue Mobilization (IASTM) is a safe and effective therapeutic technique. It utilizes metal or plastic tools to facilitate myofascial release to improve soft tissue mobility in your body. These ergonomically shaped tools help your massage therapist to mobilize your muscles, fascia (the collagen covering your muscles), and tendons. This is thought to reduce pain and improve movement.
$90 per 60 minutes
$55 per 30 minutes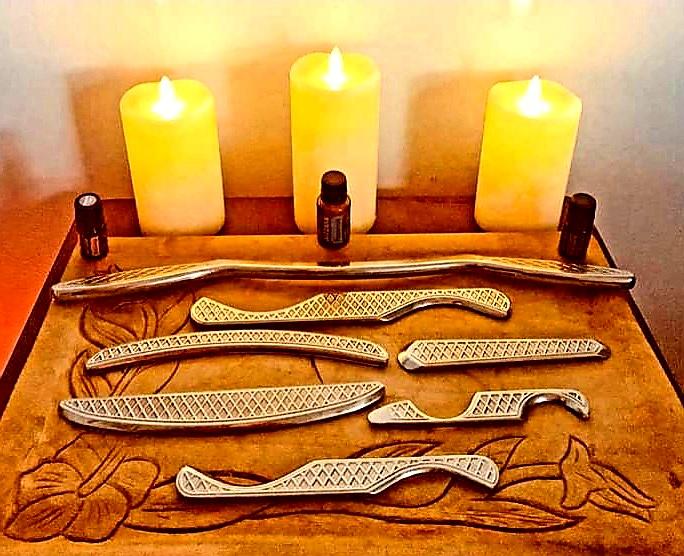 Medicupping
Medicupping:  A  treatment technique that utilizes glass cups that are attached to suction to help release & restore fused tissue layers. It can be used for problems in the lymphatic system, scar tissue restrictions, general inflammation, and relieving chronic pain conditions. See our page on MediCupping "What to Expect"
Microdermabrasion
Microdermabrasion is a minimally invasive procedure used to renew overall skin tone and texture. It can improve the appearance of sun damage, wrinkles, fine lines, age spots, acne scarring, melasma, and other skin-related concerns and conditions.
The process utilizes a special applicator that sprays aluminum oxide or sodium bicarbonate with a vacuum/suction that gently and deeply exfoliates the skin layers. It is indicated for the following conditions as well as those who are seeking healthier, vibrant, and rejuvenated skin.
fine lines and wrinkles
hyperpigmentation, age spots and brown spots
enlarged pores and blackheads
acne and acne scars
stretch marks
dull-looking skin complexion
uneven skin tone and texture
melasma
sun damage
Muscle Flushing
Muscle Flushing: Enhances the recovery process for athletes, sports competitors, and high-performance individuals.
Myofascial Release (MFR)
Myofascial Release (MFR): a technique that involves applying gentle sustained pressure into the Myofascial connective tissue restrictions which eliminate pain and can restore motion to the muscles and joints. It can improve blood flow, oxygenate the muscles, improve lymphatic circulation, and stimulates the stretch reflex in muscles.
Neuromuscular Therapy (NMT) – Trigger Point
This approach to massage therapy combines soft tissue manipulation techniques of various fields in the healing arts including trigger point therapy.  You can also expect flexibility stretching to support balancing the musculoskeletal and nervous systems, and diminish the causes of neuromuscular pain. The therapist often uses fingers, knuckles, or elbows to apply alternating levels of pressure, which increases circulation and helps to relax the painful muscles. This area of massage therapy improves muscle and joint function.
Percussion Massage (Also known as a Therapeutic Massage Gun)
Percussion Massage: Incorporates a handheld massage gun during a therapeutic, deep tissue treatment to stimulate pain relief.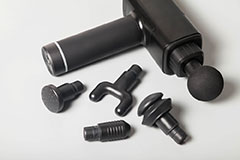 Prenatal/Postnatal (Pregnancy) Massage
Prenatal/Postnatal (Pregnancy) Massage: Starting with the second trimester all the way to the end of the third trimester, this massage technique is sensitive to the needs of a woman's body, and uses specialized tools to support the body while relieving muscle tension, aches and joint pain, and often can improve labor outcomes and newborn health.
Swedish/Relaxation Massage
Swedish/Relaxation Massage: the most common type of massage therapy utilizes circular pressure, firm kneading, light tapping, and easy strokes. 
Therapeutic Deep Tissue/ Sports Massage
Therapeutic Deep Tissue/ Sports Massage: a technique that's mainly used to treat musculoskeletal issues, such as strains and sports injuries and involves applying sustained pressure using slow, deep strokes to target the inner layers of your muscles and connective tissues. This process helps to break up scar tissue, increase blood flow, improve healing, and reduce inflammation in the muscle tissue of an injury.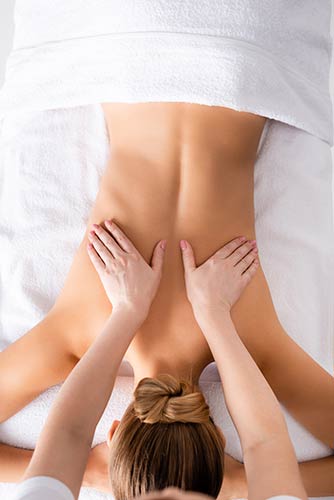 Self Care Practice
Nurture Yourself




Sharing Answers to Our Most
Frequently Asked Questions
What Precautions are you taking due to COVID-19?
We have always taken great care to maintain a clean and healthy facility. Your health has always been our 1st priority. We keep an updated list of our safety and sanitation practices during this unprecedented time on our COVID page, so that you are always informed. You can also click the link in the navigation for more.
Where will my massage or bodywork session take place?
Your massage or bodywork session will take place in a warm, comfortable, quiet room. Soft music may be played to help you relax. You will lie on a table especially designed for your comfort.
Must I be completely undressed?
Most massage and bodywork techniques are traditionally performed with the client unclothed; however, it is entirely up to you what you want to wear. You should undress to your level of comfort. You will be properly draped during the entire session.
Will the practitioner be present when I disrobe?
The practitioner will leave the room while you undress, relax onto the table, and cover yourself with a clean sheet or towel.
Will I be covered during the session?
You will be properly draped at all times to keep you warm and comfortable. Only the area being worked on will be exposed.
What parts of my body will be massaged?
A typical full-body session will include work on your back, arms, legs, feet, hands, head, neck, and shoulders.
What will the massage or bodywork feel like?
A relaxing Swedish massage is often a baseline for clients. In a general Swedish massage, your session may start with broad, flowing strokes that will help calm your nervous system and relax exterior muscle tension. As your body becomes relaxed, pressure will gradually be increased to relax specific areas and relieve areas of muscular tension. A deep tissue massage will have deeper pressure, but should not be painful. Always communicate with your therapist. Lotion or massage cream is used to allow your muscles to be massaged without causing excessive friction to the skin. This also helps hydrate your skin. You should communicate immediately if you feel any discomfort so that another approach may be taken. Massage and bodywork are most effective when your body is not resisting. Your therapist wants your session to be exactly what you would like, so don't be afraid to speak up if the pressure is not what you would like or if something is uncomfortable.
Are there different kinds of massage and bodywork?
There are numerous types of massage and bodywork; various techniques utilize different strokes, posture and movement re-education, application of pressure to specific points, and more. We can discuss which methods may be most appropriate for you and tailor your massage session for what you need specifically on that particular day.  Every session is different depending on the needs of each client, so always share your goal for the session with your therapist.
What should I do during the massage or bodywork session?
Prior to the massage, feel free to ask the practitioner any questions about the technique or the upcoming session. During the massage, make yourself comfortable. The practitioner will either gently move you or tell you what is needed throughout the session (such as lifting your arm). Many people just close their eyes and completely relax, communicating if/when they need more or less pressure, another blanket, or anything else relevant to the session. If you have any questions regarding the session or about the particular technique you are receiving, feel free to ask.
How will I feel after the massage or bodywork session?
Most people feel very relaxed. Some experience freedom from long-term aches and pains developed from tension or repetitive activity. After an initial period of feeling slowed down, people often experience increased energy, heightened awareness, and greater productivity which can last for days. Since toxins are released from your soft tissues during a massage, it is recommended you drink plenty of water following your massage.
What are the benefits of massage and bodywork?
Massage and bodywork can help release chronic muscular tension and pain, improve circulation, increase joint flexibility, reduce mental and physical fatigue and stress, promote faster healing of injured muscular tissue, improve posture, and reduce blood pressure. Massage and bodywork is also known to promote better sleep, improve concentration, reduce anxiety and create an overall sense of well-being.
Are there any medical conditions that would make massage or bodywork inadvisable?
Yes. That's why it's imperative that, before you begin your session, the practitioner asks general health questions. It is very important that you inform the practitioner of any health problems or medications you are taking. If you are under a doctor's care, it is strongly advised that you receive a written recommendation for massage or bodywork prior to any session. Depending on the condition, approval from your doctor may be required.
Extend Your Self Care
Massage Packages
Save $15 off 3 services. Mix and match services however you like. Your package credit stays on file, never expires, and you can share them with friends and family. (*No package pricing on 30-minute sessions)   
RELAXATION
Three - 60-Minute Sessions ($195)
Savings = $65 for each session
Three - 90 Minute Sessions ($315)
Savings = $105 for each session
COMBINATION
Three - 60-Minute Sessions ($225)
Savings = $75 for each session

Three - 90 Minute Sessions ($345)
Savings = $115 for each session

SPECIALTY/DEEP TISSUE/SPORTS
Three - 60-Minute Sessions ($255)
Savings = $85 for each session

Three - 90 Minute Sessions ($390)
Savings = $130 for each session